Completing our Aero lineup with the fastest rear wheel – engineered and assembled in Switzerland.
MSRP US$

from $ 3037

Weight per item

from 1074 g
Made to aerodynamically maximize your performance on flat to undulating courses with cutting-edge technologies. Developed together with the aero experts from Swiss Side, the full carbon rear disc wheel is made for disc brake bikes only and with its 20 mm rim inner width optimized for wider tires to reduce rolling resistance and increase comfort. At its center is the 180 DICUT hub with Ratchet EXP System and SINC ceramic bearings, the jewel in the crown. The ARC 1100 DICUT DISC inspires every time trialist and triathlete to pedal even harder.
Hub type

180 with Ratchet EXP 36

Rim

Carbon, Hooked / Crotchet tubeless TC

Rim height

Disc
Model finder
Just a few clicks to find your model. Please use the filter below.
We have found 1 matching wheel-set.
General
recommended system weight max.

ASTM classification
Rim
Material

Rim joint

Tire interface

Valve hole

Decal type

Outer width

Cross-section
Hub
Hub type

Axle system

Built-in dimension

Freehub body

Freehub system
Spokes & Nipples
Spokes left

Spokes right

Spoke pattern

Nipples
Inclusive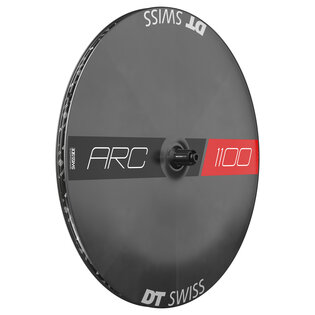 REAR WHEEL
ARC 1100 DICUT db disc 12/142 mm Shimano
WARC110NIDJCA10998
Carbon

-

Hooked / Crotchet tubeless TC

Presta

29" / 700C

Disc

Vinyl

20 mm

25 mm
Decalset Black Chrome Gold
Tubeless tape 23 mm
TL valve alu black 18-25 mm
SRAM XDR Road freehub body kit
wheel bag
Manuals, spareparts & conversion.
Find support services to your product choice ARC 1100 DICUT db disc 12/142 mm Shimano - REAR WHEEL.
Ride the ARC DISC now – on Zwift!
Experience the speed of the fastest ARC Aero wheels in Zwift: The ARC 1100 DICUT DISC rear wheel is now available in the "Drop Shop". In combination with the ARC 1100 DICUT 80 front wheel, this wheelset will lead you to new PB in the game on flat and slightly undulating courses and segments – just like in the real world.
CHRIS LEIFERMANN
Pro Triathlete BMC Triathlon Team
"All you hear is your breath and the satisfying sound of whoosh-whoosh. It gives you a sense of being one with the road. Especially in Ironman racing where you are set back from your competitor and all you hear is your breath and the satisfying woosh-woosh-woosh of the disc. It allows you to settle in, to feel how smooth your equipment is and also push to your maximum ability to the end of the bike split!"
FABIAN CANCELLARA
2x Olympic Individual Time Trial Champion (2008/2016)
"For me, the disc was and is THE sign of a real time trial and gave me the pure, mental motivation to pedal full speed. It was the last bit of difference in material to complete a perfect time trial."
DANIEL BAEKKEGARD
Pro Triathlete
"The nature of the bike course is important when it comes to choice of setup. What's great about the quality and weight of the new ARC 1100 DICUT DISC is that I now only have to change the front wheel. The disc is light enough for hilly courses and fast in all conditions. At the same time I can run a tubeless setup with wider tires which is both the fastest and most comfortable solution."