ratchet exp
maintenance notice
Dear DT Swiss Customers,
With the introduction of the new EXP-Technology DT Swiss built on the 25 years of star ratchet technology to bring a product to the market that further evolves around the idea of reliability and engagement precision.
It is precisely this high level of precision that requires a correspondingly high level of precision in the design, production and assembly of its single components. Although we follow standardized and rigorous quality assurance and control processes in the production of these single parts, we experienced some unusual service cases of the new Ratchet EXP System that we could not immediately explain.
In depth material and product analysis lead us to the conclusion that variations in the surface finish of the ratchets that are in a completely normal range for the traditional and established systems are potentially leading to premature abrasion of wear parts in the new Ratchet EXP system. This premature wear can then lead to restrictions of the engagement in individual cases, which can be remedied by a simple replacement of those wearing parts.
With the further development of the production and quality assurance management we were able to even further narrow down the variance within the surface quality. This will ensure that you will experience the very same level of engagement reliability and product durability that you are used to from DT Swiss.
We understand that your expectations of the quality and reliability of DT Swiss products is very high, so is our own expectation towards our products. We also understand your disappointment if this premature wear has affected your riding experience by any means. We want to sincerely apologize for that.
It is recommended to contact us via the contact form below or the nearest DT Swiss Service Center for a free inspection and service of the product if needed. Additionally, you can reach us at the following number +800 0000 1994 from Monday till Friday 08.00-12.00 and 13.30-17.00.
MANUAL
Access the manual here.
Affected products:
Only Ratchet EXP systems are affected. Ratchet and Ratchet LN ratchets have the same surface but are not affected by premature wear. Ratchet EXP systems can be identified by the inscription "Ratchet EXP" on the freehub body.
This freehub system has been on the market since 2019 and has so far been installed in the following products:
DT Swiss standard products:
ARC 1100 / 1400 DICUT
PRC 1100 DICUT Mon Chasseral
XRC 1200 / 1501 SPLINE
XMC 1200 / 1501 SPLINE
EXC 1200 / 1501 SPLINE
180 Components hub
240 Components hub
SERVICE KIT RATCHET 36T EXP W/O TOOL
SERVICE KIT RATCHET 54T 180 EXP W. BEARINGS
SERVICE KIT RATCHET 54T 240 EXP W. BEARINGS
SERVICE KIT RATCHET 54T EXP W/O TOOL
Only hubs with a "0" or "9" in the middle of the production code are affected, for example: P2079940 308 DTP N 10027719. Only hubs with these digits in the code have an interior with standard surface requirements and can therefore possibly be affected by early wear and tear. All other products are not affected.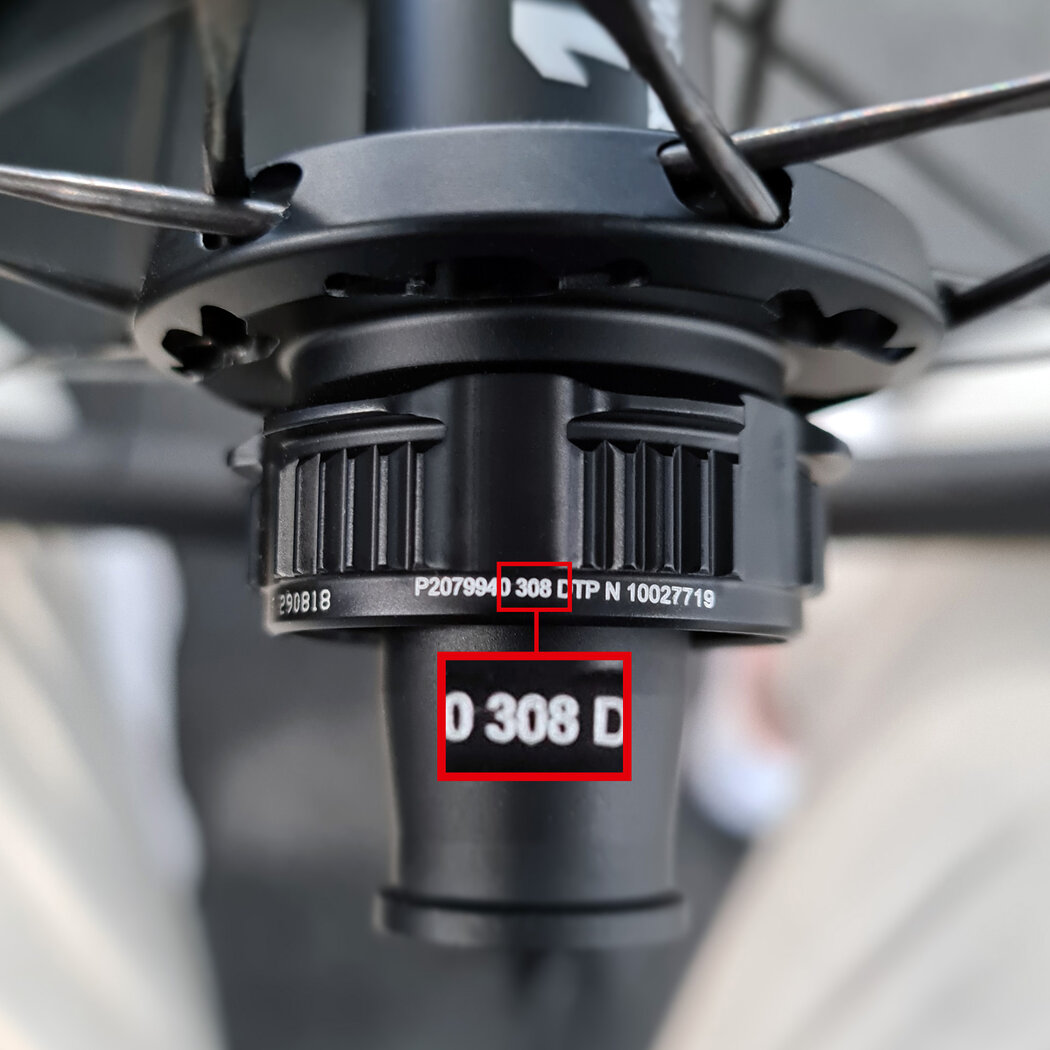 MAINTENANCE AND CARE
Compliance with the recommended maintenance intervals according to the operating instructions is a prerequisite for long-lasting, flawless functioning of any freehub system. Maintenance of our hubs is recommended annually when used under normal conditions, and every 3 months when used under extreme conditions (regular driving in dust, rain, snow or frequent transport in the rain). Only the tools and lubricants specified in the technical manual may be used to perform maintenance and care of the hubs.
In case of problems caused by insufficient or no maintenance, we reserve the right to refuse warranty claims.