The mounting solution for Thru Bolt front wheels.
With an axle diameter of 9 mm in the front and 10 mm in the rear, the thru bolt system is a special kind of axle mounting for bikes. The DT Swiss thru bolt system is compatible with standard quick-release dropouts but requires matching hubs. The stronger wheel connection results in a greater stiffness.
Range of use & type

RWS MTB

Lever material

Aluminum
Model finder
Just a few clicks to find your model. Please use the filter below.
We have found 1 matching RWS.
General
Type
Lever material

Product type

Range of use & type
Dimensions
Axle system

Built-in dimension

Length [mm] (L)

Thread length [mm] (G)

Thread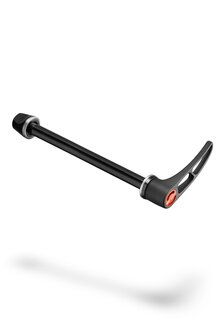 RWS 10 Alu thru bolt 100mm/Ø9mm
HWQASM00S2935S
Looking for conversion options, spare parts, manuals or how-to videos? Visit our product support.

Find help and answers for frequently asked questions here.
Find help and answers for frequently asked questions here.
Under Product Support, you will find exact details of all conversion options for your product (wheel, hub). First go to Product Support and select your product using the DT Swiss ID or filter. Under "Conversion" you will find the exact details for all conversion options. You will also find helpful How To videos and manuals.

Regular hub service is worth it! Dust and dirt cause wear parts to wear out faster, which can impair function. We recommend cleaning the hub every 12 months and lubricating it with a suitable grease. Here you can find How To videos and user manuals for hub servicing. If you need to replace a ratchet, please contact our Service Center or a dealer.

There are various reasons why the freehub may be stuck. Our technical manuals can help you find the cause:

Please check the user manual in section 3.

For professional evaluation, please contact our Service Center or a dealer.

You can also convert our Pawl hubs to the Ratchet LN System. You can buy the Ratchet LN upgrade kit from dealers. The How To video explains conversion step by step.

Play

Our hubs are marked with a production code. This starts with a "P" and can be found on the hub, either on the flange (on the disc brake side) or near the freehub body. See our How To video for more information.

Play

DT Swiss sells its products exclusively via official dealers, some of which also have online shops. Please contact your dealer. Or contact the distributor for your country – please use the contact form and select your country first, followed by "Product availability" as the subject.